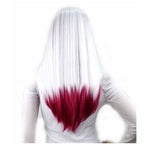 Everyone knows that February is the month of love. With many shades of pink & red, why not give that love to your hair with colour! Show off that fire and love with passion in these Valentine inspirational looks.
Pinup Valentine 
Since we rang in 2020, the older vintage looks seem to be making a strong come back. Lots of finger waves, short bobs and high large curls to name a few. With these looks you will find striking blondes, deep brunettes and fun classy redheads. Any shade of red works well with vintage curls that can be easily achieved.  For an even deeper contrast, try 2 different shade that complement each other like strawberry blonde and deep cherry amber. Add the finishing touch with flowers, ribbons or hair jewelry. 
Pink Valentine 
Pink, a delicate color that means sweet, nice, playful, cute, romantic, charming, and tenderness. It's associated with bubble gum, flowers, babies, cotton candy, and sweetness. The color pink is the color of universal love of oneself and of others.  Try this happy Valentine colour to express your inner child. This fun colour is bright and quite beautiful to look at.
Valentine Ombre
The Ombre trend is here to stay. You can find all differnt types of ombre today from one extream colour to the next. A beautiful ombre is the Valentine Ombre. Fused with bright reds, and plum mulled wine colours.  This rich and very striking look is a must for the valentines season. Also having the root start at a jet black or dark brown showcases another great look that shines love.
Valentine Dipped
Bold and beautiful, this look is quite popular all year long but for the season of love, why not dip your tips a bright red or bubble gum pink. You can also fake it by wearing hair extensions just placed at the bottom of the hair line to give you the dipped look. Show off the contrast this Valentines.
Mulled Wine Valentine
Similar to the cozy seasonal beverage, "mulled wine hair" is characterized by a deep red, almost purple hue with touches of orange and/or chocolate-brown throughout. This colour is quite popular during the month of December. Mulled wine is a great colour for the Valentines season. Bright and uplifting, maybe this is the colour you have been waiting for.
Peek-a-Boo Valentine
Maybe you like a more subtle look rather than bright and bold. The Peak-a-Boo Valentine look still gives you the colour you may be looking for with highlights instead of a full head of colour. This easy look can be achieved with clip in extensions. You can give more depth to your look by applying 2 differnt tones of red. This will give you a wider range of hues while still keeping a subtle look.
Show off your look with a splash of colour this Valentines. Whatever you choose, have fun and love it!