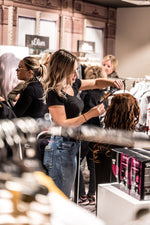 Remember that feeling when you first graduated? Shears in hand ready to take on the world. You could feel the energy in the air. You were unstoppable.
Fast forward 5, 10, 15, 20, 25 years. Do you still feel the same way. Has the magic left?
When we do the same thing over and over without change, not only do we loose our passion but our skills suffer too. Now if you love colour and want to focus on colour that is different. We all do best when we follow our passion. Hate doing perms, don't do perms. Focus on what you love, making sure to keep up with the trends and new skills.
As time moves on new methods, products and styles emerge. Here are 4 reasons you to continue your education.
1: Increase your current skills
When a client walks in to your salon they want a stylist who is confident and knows what they are doing. If you only do one bayalage, one colour correction, one shag cut per year, how do you think your skills are compared to a stylist that does them all the time. By attending trainings you gain the ability to practice, which increases your skills and confidence. 
As the old saying goes: practice makes perfect!
2: Make your salon stand out from the competition
Once you learn that new skill, its time to advertise. Promote what you have learned and make your salon stand out.
With a salon on almost every corner, what makes your salon stand out to new clients. Yes your current clients love you and may refer their friends but is that enough? 
Offering a service not done by your competition will make your salon stand out from the crowd. 
Promote your new services on social media. Post that picture of you with your new certificate. Get the word out!
3. Grow your network
When you attend trainings, certifications and classes you meet other like minded people. Growing your network is never a bad thing. Looking to hire a new stylist for your salon? Check with your network of fellow stylists to see if they know anyone looking. The same applies to the stylist. Need a new salon to call home? Get out your cell and put the word out.
Have a potential client come in and you are just so busy and booked up for months on end. Check with your network to find another stylist or salon that can take on the potential client.
With the internet available at our fingertips 24/7, it is now even easier to continue your hair stylist education. Trainings, seminars and courses are available both online and in person. While in person is preferred, online is a great option when needed.