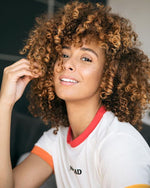 Twilighting
A trend that has moved into the 2020 new year is twilighting. It relies on a mix of balayage (highlights directly painted on your hair) and babylights (super-fine, subtle highlights using foil) to create a natural, dimensional look. It's described as brunette with warm undertones, meaning the colour is reflecting golden hues. Is twilighting for you?
Mushroom Brown
Mushroom brown hair is a great neutral hair color that involves different subtle shades of brown and gray just like the colour of a mushroom. To create this semi-ashy hair color, a colorist will apply a series of lowlights and highlights on top of an ash brown base to create a multi-dimensional hair colour.
Smoky Gold
Welcome to Smoky Gold, the newest hair color trend that strikes the perfect balance between blonde and brunette. Smoky gold is a multi-dimensional balayage with a darker caramel root and ribbons of butterscotch blonde throughout the ends. A great look.
 

Cinnamon Swirls
Cinnamon swirl hair is the new shade for 2020. The rich, vibrant tones help to warm up your skin tone while the hand painted pieces contour your face. The roots are less visible as the color grows out, meaning more time in-between salon visits.
Pastel Plus
Pastel hair has seen always been popular but the latest 2020 look is a lot more washed out — in a good way. Pastel colors are a quick and easy change if saying goodbye to your icy blonds and dusty pastel colors like dusty rose, dusty pink, dusty coral. These are also an easy way to play with hair color without committing.
Buttercream Blonde
Buttercream blonde is a huge forecasted colour for blondes in 2020. These tones can range from light iridescent gold blondes, light to medium gold, and light to medium warm gold hues. Buttery cream and champagne blonde hair colour. You can easily try these hues without having to make a big change.