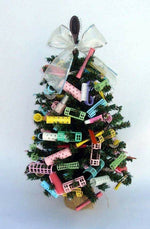 When it comes to the holidays, the creativity shines in all forms. You will see it in the shopping malls decorated with reds, greens, golds and silver, your neighbor's homes shining with colourful lights. That company holiday party with ugly Christmas sweaters and even some hairstyles that are festive and bright.  Here are a few festive looks for this holiday season:
Candy Cane Hair
Who doesn't love candy canes? This sweet look has taken great popularity this holiday season with a few different modifications. Some with shades of deep pinks and reds while other have a hint of minty green for the more classic candy cane look. This look is best achieved with a light blonde base. Semi-permanent hair dye is a great choice for this look which will lightly fade away. Whatever your choice, this sweet look will shine with holiday spirit. 
Reindeer Bun
A fun, creative and artistic holiday look for kids and adults of all ages. Do you have a holiday party to attend? Maybe this is the look you are looking to wear for that Christmas party. A easy to do look that will make you the reindeer of the season. 
All you need is:
Googly eyes from any craft store
3 Small (half size) Popsicle sticks
Glue
Twigs or brown/black pipe cleaners
Large red/black or brown cotton puff.
Hair Tie
Hair Doughnut (optional)
Glue the googly eyes to the Popsicle sticks and cotton puff. Allow to dry. Style hair in a bun or with a hair doughnut and secure with a hair tie. Insert the nose puff first in the centre of the bun. Next, insert the googly eyes and finish off the look with inserting the antlers into each side of bun. Depending on how tight your bun is, you can also insert the antlers in behind the bun against the scalp where the hair is tighter for a more secure fit. Voila! 
 Decorative Hair

 One thing that screams for the season is decorating. Homes, trees, presents, why not hair? Accenting with things you would use for the holiday season gives a creative festive look. Add a little holly or mistletoe. Make your hair a present by adding some bows or braid some holiday ribbon throughout your hair. Want to brighten up your look? How about adding some lights or a wintery holiday crown. Add holiday flowers to your look like a poinsettia. Its the holidays, have fun and be creative.
Snowmen & Xmas Trees
For the extremely creative person who wants to go all out this holiday season. Dress that hair up like a friendly snowman or that colourful Christmas tree. 
What you need for Mr. Snowman:
3 Hair Doughnuts (small, medium, large)
3 Hair ties
Felt or Ribbon
7 to 10 Coloured Hair Pins
2 pipe cleaners
Bobby pins
Hairspray (optional)
This creative hairstyle is best suited for someone with long hair. Style hair in a tight ponytail that sits on the top centre of the skull. This will give the best support. Apply, roll and style hair doughnuts as usual starting from largest and work to the smallest being left on the top. Secure with hair ties in between the doughnuts or Bobbi pins if needed. Take your coloured hair pins and place into your snowman's body for the buttons, nose and eyes. Add pipe cleaners for the arms and secure with Bobbi-pins. Finish dressing your snowman with a scarf from a ribbon or some felt. If you want to give him that extra special look, you can always make a little felt hat and pin it to the top to finish off the look.
What you need for Xmas Tree Hair:
Christmas Ordainments
Bobbi-Pins
Styrofoam Cone
Hairspray
Curing Iron (Optional)
Another hair style that works best with a wig or long thick hair. Style hair as usual. Take Styroform cone and place in the centre of the head. Section 4 small parts of hair, (front, back, left side, right side) Pull sections up and pin to cone. Take remaining hair and continue to build and layer hair by pinning to the cone. Another way you can attempt this look is by pulling all your hair up the cone and using a hair tie at the top for a tighter hold. Take holiday decorations and place in hair with pins to hide the cone where needed.
The holidays, a time for food, family, fun and so much more. Be creative with your hair and wardrobe and enjoy the holiday season. What will you create?