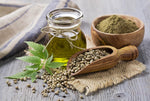 Hemp is a member of the Cannabis Sativa species of plant. You may have heard this plant referred to as marijuana, but this is really a different variety of Cannabis sativa.
Hemp seed oil is a clear green oil made by cold-pressing hemp seeds. It's different from cannabidiol (CBD) which is an extract produced from hemp flowers and leaves. THC and CBD are some of the most common compounds found in the Hemp, which are also one of the active ingredients of medical cannabis.
As the world is changing, becoming more "green", and more health consensus, hemp oil has thus seen a surge in demand in the present times. In many everyday products such as, foods, clothing, home cleaning products, creams, ointments for sickness and even hair products.
There are many benefits to using Hemp oil like high nutritional value, combating inflammation to the scalp, improves heart health, promotes health to the brain, helps maintain healthy weight, benefits the digestive system, and clears the skin.
When it comes to your hair, hemp oil is a great and safe alternative for the person who has sensitivities or if you want to follow more natural treatments, hemp oils may be what you are just looking for. With regular use of hemp seed oil for hair, whether applied topically or taken as a supplement, will moisturize the hair, stimulates hair growth and strengthen the hair. 
Hemp Oil for the Scalp
It is known that using CBD for inflammatory skin conditions like psoriasis and eczema, cannabinoid therapies would assist for psoriasis. The topical application of hemp seed oil strengthens the skin and makes it more resistant to infections, which could help improve scalp health. Many people assume that dandruff and other scalp issues are just a dry skin problem, but in reality, they can be caused by a wide range of issues like dermatitis, eczema, or a fungal infection.
 As Nellie's Hair Emporium (N.H.E.) is an exclusive salon distributor of the North American Hemp Co., we carry some great hemp hair products that can be used.
The Soak It Up moisturizing shampoo drenches dried out locks in its Omega Fatty Acid rich formula containing chamomile extract and thermal algae to hydrate, repair split ends and add incredible shine. It gently cleanses hair of pollution, styling build-up and urban life over the past 24 hours. Gentle enough for daily use, Soak It Up tames coarse tresses making it much easier to style.
N.H.E. also carries the Smooth Seal Conditioner that will nourish and gloss out stressed out hair with its unique blend of grape seed and pomegranate extracts in a low pH formula. It will immediately seal the hair cuticle and smooth over surface imperfections for ultimate shine and silky smooth styling without frizzy 'fly-aways'.
The Finishing Touch hair smoothing cream is the last step to keeping hair "fly-aways" free. It helps seal split ends and leave hair silky soft all day. Its hydrating formula with pro-vitamin B5 and shea butter softens wiry locks, keeps frizz in control and adds subtle definition and gives a brilliant shine as well. 
The great thing about these products is that they are:
All Natural Formula
Sulphate Free
Paraben & DEA Free
Cruelty Free & Vegan
Contains Certified Organic hemp seed oil
Made in Canada
Gluten Free 
Whatever the choice, hemp oil products provide moisture. In order to have the healthiest hair possible your hair needs to have the right amount of moisture to keep its lush and full look. This is always a problem in the drier and colder parts of the year when your hair is more likely to dry out and become brittle. Hemp oil for hair will prevent loss of water and at the same time provide moisture for your hair and scalp. Added to that it's easily absorbed by your hair and scalp so you're not left with a mess of sticky hair.