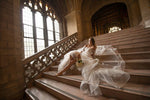 Ever wonder how women achieve amazing hairstyles in those wedding photographs you see online? The answer to this question is usually hair extensions.  In addition to curling irons, hairspray, and the hands of experienced pros, a few perfectly-placed hair extensions just might be the secret to the wedding hairstyle of your dreams!
Whether you're looking to add some volume to an updo or lend more length to your half-up hairstyle, there's a good chance you're be considering possibly incorporating some hair extensions into your wedding look. Even if you've never used them before, don't be scared—your hairstylist can make them look perfectly natural. No matter what type of extensions you're purchasing, it's worthwhile to invest in real hair, as well as remy extensions (which means the cuticle of the hair is facing all the same way.) All extensions should be human hair when using heat styling, as synthetic hair extensions will melt with the heat of a curling iron or straightener.
Extensions do add volume and length to best show off your wedding veil or crown. 
Clip-In Extensions:

 

 A popular technique suggested for adding extensions just for your wedding day. Small bundles of hair are attached to small clips that can be temporarily attached near the scalp.
Clip-in extensions are the most popular for both brides and the bridal party and are a simple and effective way to get that perfect wedding-day hairstyle. It is an affordable way to add length, volume, and color. It is recommended to having a trial run before your wedding. It offers hair experts the opportunity to both customize and cut for the perfect blend as well as review different wedding hairstyles for you. 
Clip-ins do require a bit of advance work. With clip-in extensions, you would have to prep them before the wedding day according to how you will wear your hair. For instance, if the look involves waves, you will have to curl the extension with the appropriate iron after spraying it with a holding spray. 
DON'T use too much hair! Using too many extensions can look unnatural and will also be uncomfortable and hot. You want to make sure you still look like yourself on your wedding day. Try clipping in just one set that will add both volume and the desired length first. You might see that it's all you need.
You can remove temporary extensions immediately after the big day; alternatively, for a long-term option, you may want to consider something more permanent. Be advised that more-permanent extensions call for care and maintenance both at home and in the salon.
Tape-In Extensions:

 

With this technique, small swatches of extensions come with pre-glued tabs that are carefully pressed together near the scalp. This service can take one to two hours, and the look lasts one to two months with proper care. 
Out of all permanent hair extensions, tape-ins are the least damaging. But it also all depends on you and how you take care of your hair. Do your research, ask questions.  Make sure you have the right stylist who is experienced with applying ALL hair extensions.
Fusion(U-Tip) or Pre-Bonded Extensions:

 

This technique has been around since the beginning of hair extensions. It is the most long lasting of the extensions. Individual keratin bonds pre-laced with a small amount of hair are attached at the root with heat to create the most natural and seamless look. This technique can take four to six hours to apply but the results can last two to four months with proper care.
With Fusion bonds, special care must be taken while washing, swimming, styling and sleeping. If you are planning on visiting a warm destination for your honeymoon, ask your stylist about fusion extension care or check out Infinitude Hair's blog on Hair Extension Care in the Summer.
Sew-In Extensions:

 

With this technique, it is braided down your natural hair and sewed two or three bundles of hair extensions to the braids. This service can take three to four hours, but the look lasts one or two months for women with textured hair and 2 weeks for women with smoother textured hair.
Infinitude Ponytail Extension:

 Part of the Clip-in selection of hair extensions, the ponytail extension is another fast and easy extension to apply for that certain look you may be trying to achieve on your wedding day. For the woman looking for a updo, a full bun, a braid, or just that striking look with a high ponytail. It is easy to remove at the end of your busy and long day.
Infinitude Halo Extension:

 The newest invention to hair extensions which is gaining much popularity for weddings is 

the Halo extension. If you are not looking for anything permanent, don't want anything attached to your hair, or have never worn extensions, you may find the Halo is what you are looking for. The Halo is a full weft of hair with a hidden clear soft wire attached. It is worn like a crown/halo (hence the name) on your head, and sandwiched between your own hair for length and fullness. Once your stylist is done, the wire is undetectable.  It is lightweight and again can be taken off at the end of your day. It takes 10 mins to apply and can be styled for those low buns, braids or if you are just looking for some length.
 
 Don't take risks or settle for less for your wedding day. Consult with a professional stylist about whether or not extensions are for you—look for quality extensions and reputable service—and create a hair plan leading up to your wedding, including extension customization, meaning color matching for a naturally seamless look and custom fitting to your look. 
While synthetic extensions might be tempting for their low price tag, sacrificing on quality can mean shiny extensions that don't hold up to styling. Always invest in real remy human hair (remember, that means the cuticles are facing the same direction for smoother extensions). Remember that temporary options will always be less expensive than permanent options. A highly trained and skilled professional will make sure that you're living your best hair life, but also make sure that your natural hair is not compromised or damaged in any way. It will be worth every penny!