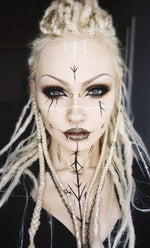 It is October which means Halloween month with lots of creativity. Its never too early to experiment with makeup, wigs and costumes. The freedom of Halloween is that you can be anything you want to be. Depending on what you choose to be, there are many different hair styles that will complement your look.  Here a few:
Scarface Halloween Hairstyle
Channel Michelle Pfeiffer's iconic Elvira Hancock hairstyle from the movie Scarface with some hot rollers and hairspray Or, you can invest in a wig with thick bangs with rolled up ends. A fast and easy look to achieve that will make a statement. 
Unicorn Halloween Hairstyle
Another simple and easy look that still gives that wow factor. This look is also inexpensive. Save yourself even more by making your own headpiece/tiara. This look can be achieved if you have long hair. If not, clip-in extensions, bobby pins and some hairspray can assist you with becoming the unicorn you always wanted to be. 
Vampy Pinup Halloween Hairstyle
This look brings that vintage classic look to your vampy style. Or if you are looking into just dressing up as a pinup queen for Halloween this is the look. With this look, all you need is curlers or a large curling iron, hairspray and some pins. Be classic!
Mermaid Queen Halloween Hairstyle
 Have you always wanted to be a mermaid? Halloween is the perfect time to show off the mermaid inside of you. Mermaids are known to have very long flowing hair. If you are gifted with long luscious locks just curling your hair with a curling iron will assist with achieving this look. If you want to step up your mermaid look, you can always use semi-permanent dyes that will wash out. You can also invest in a wig that you can use in the future. Wigs like this are very easy to find during the month of Halloween.
Viking Witch Halloween Hairstyle
If you want to be a little more daring and have the time, a braided and dreaded viking hair look is both beautiful and striking. Bring out your inner warrior. Add some hair jewels! Some women keep this look long after Halloween is over. Once the braids are finally taken out, you are left with a crimped look. If you want to achieve this look without the time, you can find also invest in a wig.
With Halloween, your choices are endless. Have fun and be who or what you want to be!