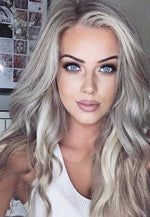 In Western culture, blonde hair is typically associated with youth and innocence. Culturally it has seen a remarkable transition from its roots to where it is today. There are plenty of hair colors that go in and out of style but platinum blonde is here to stay. Platinum Blond is a color that will always be cool.
Within the last few years, taking the platinum blonde look to a silver has grown in popularity. Everywhere you look, men and women are stepping up their platinum blonde to a shining silver and some a light shining grey.

To achieve this look it is always a good idea to ask a professional first. Dealing with bleach can turn into a hair nightmare quickly if not done properly. Many think they can just go to their local store and do it themselves but this usually turns out with having very yellow brassy hair, burning of the scalp and even hair loss. Go see your hair professional and they will help you get the look you are looking for.

Having platinum or silver hair comes with some upkeep.  Daily elements such as the sun, hair products, minerals in the water, diet and sweat play a factor in having your hair loose its silver shine to a dull brassy blonde. There are products out there you can use to help keep that silver hair shining bright like a diamond like Keratonz Colour Extend Mask for Silver hair by Colour Now. 
This is a great product that gives that extra shiny silver boost you are looking for. It also has a pleasant odor unlike many hair products that specialize in blondes and silver. Intended to conquer dull, faded hair color and damaged hair. Keratonz utilizes AF organic coloring technology which helps the organic essence penetrate into hair and revitalize damaged hair. Not only can this product compliment color, but also can treat the hair and leave hair looking more lustrous and fashionable.

If you are looking for a product to give you that shining silver look, N.H.E. carries this product. For the month of October, it is on sale at 30% off. Pick yours up today.