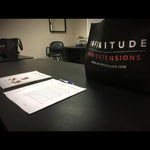 Happy Monday!! Its hard to believe we are near the end of the month of June already. Which means training day.  Its always exciting to have new students here learning different hair extension applications. 
The students arrived at our studio early and ready to learn. They met their teacher Bisi and the other students. 
Bisi is an expert in all extension applications and has been applying hair extensions for over 20 years.  Her past work with the Toronto Argonaut's cheer-leading squad demonstrates her skills & abilities to handle all hair extension techniques and hair textures.
She is the owner of Mane & More Mobile Hair Extensions. A fun and different approach to receiving your hair extensions. She will come to you for what you need in the comfort of your own home.  
The morning started off with the students introducing themselves and going over the day's curriculum with Bisi.
They learned about topics such as: Hair Health, First Time Wearer, Blending & Cutting, Care Tips, Hair Types etc...
All that learning will make a person hungry and we don't want our students becoming hangry! Nellie's Hair Emporium supplied yummy snacks like cookies, banana bread, blueberry & chocolate muffins, coffee, tea, & complimentary lunch for everyone.
After lunch, the afternoon was busy filled with hand on learning of extension application, tools, problem solving, growing your business, removal etc.
Infinitude Hair Extension Training Kit.
Hot Fusion Hair Extension Application.
Students deep in Fusion Application.
I-Tip Hair Extension Application by one of the students.
 Tape in Hair Extension Application
The day was filled with food, fun with many questions & answers. The students, after a long day of playing with hair were very excited to start their business using Infinitude Hair Extensions. Congrats to you! You did it!
If you are interested in starting your business and would like to become a certified hair extensionist, Infinitude Hair Extension training may be what you have been looking for. Be apart of something different!! Make sure to check out us on all social media to see some more behind the scene pics and videos from this June training course.