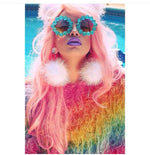 It is June which means Pride Month.  Pride has not always been such a celebration as you see today.  In fact the month of June was chosen for LGBT Pride Month to commemorate the Stonewall riots, which occurred at the end of June 1969. As a result, many pride events are held during this month to recognize the impact LGBT people have had in the world.
During many celebrations, you will see so much colour flouring everywhere. Many people express themselves, with makeup, elaborate costumes, wigs &  rainbow coloured hair.
To express your pride, there are many different techniques you can do that are easy, fun and non damaging to your hair. 
WIGS:
During Pride Month, you can always find a rainbow wig to order online or your nearest party shop.  A fast and easy transitional look where you can take it off anytime and use over and over again.
SEMI PERMANENT COLOURFUL DYES:
There are many companies out there where you can purchase a wide variety of hair dyes that are semi permanent. Semi-permanent hair color is a gentle alternative to permanent dye with a shorter lifespan. Unlike most permanent formulas, semi-permanent hair color doesn't contain ammonia or peroxide. That means that it doesn't require any development or pre-mixing, so you can apply it straight onto your hair from the applicator. Sets best with lighter coloured hair.
COLOURED EXTENSIONS:
If you don't want to colour your own hair, you can always purchase coloured hair extensions.  Infinitude Hair Extensions gives a wide selection of many different applications to whatever suits your needs. If you wanted something more permanent, Fusion, Tape, I-Tip, Micro Loop, and Nano might be what your looking for.  But if you wanted something that you could take off after the party, coloured clip-ins might be just right for you.
Whatever you choose, have fun, and express yourself.  Happy Pride everyone!!