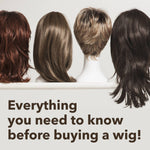 What Is a Wig?
A wig is a head covering that is typically made from either human hair or made with synthetic fibers. 
Lace front wigs, human hair wigs, and other hairpieces are commonly available at wig stores and beauty supply stores. You're also likely to find wigs at some major retailers that offer a diverse selection of products. If you can't find something that suits you at the wig store, a custom wig may be the best option for you.
Wigs are worn by many people, sometimes daily, sometimes just situationally. Convenience is often a reason behind their use, as wigs can get styled in advance. Wigs are worn for many reasons. Some people want to hide their hair loss with a wig, rather than restoring hair through surgery or even installing hair extensions. Wigs for cancer patients are also very common. Some women use wigs like apparel to change-up their appearance from time to time. 
Things To Consider When Determining The Best Wig Type For You: 
 1. Hair Texture
When shopping for wigs, you'll also notice that there are different textures of hair, curly, wavy, straight, etc. If you are not going to wear a full wig (meaning portions of your own natural hair will be showing), make sure you match the texture of your own hair.
2. Synthetic Hair Wigs
Synthetic hair is generally less expensive than real human hair. It can be made up of many different hairs and generally doesn't last very long. You cannot use hot styling tools when wearing a synthetic wig unless you get a 'heat safe' version. Either way, you need to treat synthetic hair differently than you would treat real human hair.
Synthetic Hair May Be for You if:
You don't want to spend as much money
You don't want to fully style your hair while wearing the wig
You want to use your wig only for short term
You want short to mid-length hair
3. Human Hair Wigs
This will be more expensive than synthetic types of wigs. However, the quality will be much higher, it will last much longer and you can style it with heat tools such as a curling iron or a straightener. Keep in mind, the higher quality the hair, the more you will be paying for your wig.
Human hair can come from all over the world: Asia, Africa, China, Europe, etc. Make sure you look into different types of human hair before purchasing your wig.
Human Hair May Be for You if:
You prefer a higher quality texture of hair
You want to be able to change your style
You want to keep a wig for longer than a year
You would like shoulder length or longer hair
Types Of Wigs:
1. Full Lace
Full lace units come with different specifications. But most full lace wigs have the hair attached by knotting the hair onto the lace cap itself. They are lace units that have urethane strips for adhesives to stick to. You can use Walker's lace tapes or glue directly on the lace it's self without the tape or glue showing through the unit. 
2. Lace Front
Lace front wigs are exactly what they sound like. They have the lace only in the front of the unit, and the rest of the unit is a thicker cap. There is tracks of hair sewn to the thicker part of the cap. The cap may have clips sewn to it, which helps hold the wig securely on the clients head.
3. Monofilament
Monofilament material is a blend of very fine lace material, nylon, and mesh, making it a great wig type for anyone who may have a sensitive scalp. Monofilament materials take on the color of the persons scalp when worn. This is because each hair, on a monofilament wig, is individually hand-tied to the mesh blend, creating a very natural look. As a result, no matter where you part your hair, it looks like the hair is coming out of your own hair follicles. 
How to Determine Your Wig Size
To determine the appropriate wig size for you, measure your head's circumference from the front hairline, just behind your ear, along the back of your neck, to the other ear, then back again to the front hairline.
Record the measurements to use as your shopping online (or in stores) for wigs. However, you should note that sizes can vary slightly based on the wig's brand. You should also note that some wigs are not available in all cap sizes. It is always best if you try the wig on before purchasing, especially if it is a human hair wig, as human hair is much more expensive.
How to Buy an Appropriate Wig for Your Face Shape
While you consider and compare different wigs that interest you, take some time to think about the styles that might be flattering based on the shape of your face. Below are a few guidelines you might find helpful.
Oval: An OVAL-Shaped Face is longer rather than wide while the jaw is narrower than the cheekbones. Since an oval-shaped face doesn't have any dominant areas and is largely proportional, the face will look good with almost any hairstyle, length as well as texture.
Round: A ROUND-Shaped Face has a wide hairline and fullness beneath the cheekbones. Round-shaped faces look pretty good with a linear or geometric style. Add height, if you can, and long, thin side areas for the cheeks to appear narrow. 
Square: A SQUARED-Shaped Face has a wide hairline and jaw. Such a face needs height on top while the sides should be narrow. To add height to the face, comb the hair off your forehead. Curly texture and wisps of hair close to the face break the wide, straight lines commonly found on square faces.
Heart (or Diamond): HEART-Shaped Faces have wide foreheads and narrower chins. To hide its width, bring some hair onto your forehead. You should also keep the hair close to the head, on the area close to your eyes, but make it somewhat full around the jaw as well as beneath and at the fore of the earlobes.